Eastern Sierras
EASTERN SIERRAS PHOTOGRAPHY MASTERCLASS
 Craving a much needed adventure? Passionate about photography? Want to tap in to your true creative potential? Join us as we guide you into a world of endless compositions and fresh new perspectives. These mystical mountains provide ever-changing conditions and the perfect canvas of fiery sunsets & brilliant night skies to photograph!
Fine tune your creative eye and learn next level techniques to capture the scenes the way YOU see them.  We'll teach you how to look at landscapes in a completely different way and master the art of composition. Whether it's during golden hour or during the darkest parts of the night.  Teaching YOU is our passion!
We've found that smaller groups are much more effective out in the field in a learning environment. Having two instructors allows us to give the proper amount of personal attention to you. This ensures you receive plenty of one-on-one guidance to learn, grow your craft, and take unique images you're proud to share.
This workshop is a photography workshop and so much more. You'll learn how to take advantage of any condition and return home with amazing memories and professional quality images. It is also about connecting with like-minded creatives and connecting with nature. Join us and experience the magic of the Eastern Sierras for an unforgettable photography workshop this spring!

TRIP DATES
MAY 05 - MAY 09, 2022

TRIBE SIZE
LIMITED TO SMALL GROUP SIZE OF 10

DIFFICULTY LEVEL
BEGINNER - ADVANCED
ITINERARY
Day 1
Our workshop begins at 1:00pm with a meet and greet. After we go over the agenda and get to know one another, we will grab our gear and head out to explore the magnificent rock formations of Alabama Hills.  Exploring the magical and enchanting views and photographing the sunset, blue hour and moon lit desert landscape.
Day 2
Classroom session begins directly after an early lunch. We'll be teaching you how to stack stars and edit your Milky Way shots. After class it's adventure time!  We'll head out to explore more iconic arches in Alabama Hills for some sunset, blue hour and night time fun.
Day 3
After a couple of days exploring Alabama Hills, the Ancient Bristlecones are next on our list! Once we arrive in Bishop, we will grab some lunch and have another classroom session. Afterwards, we will be back out for sunset, blue hour and moon light magic.  Getting to visit these ancient trees is otherworldly and must for anyone's bucket list. This bristlecone pine forest is home to the oldest trees in the world, some being over 4,000 years old!
Day 4
 Our last full day will start with classroom session after lunch.  This classroom session will be dedicated to editing your favorite images, practicing and implementing the new editing techniques you've learned.  Both instructors will walk around spending time with each student and answering any questions. Afterwards, we pack up our gear and head for the Hot Springs for one last night under the stars together.
Day 5
 Wrapping up our amazing week, each individual will receive a 1-on-1, personalized session with each of the instructors. This includes a handful of your favorite photos you've taken and allowing us to offer a fresh set of eyes and some powerful constructive feedback.

* We will be chasing conditions and constantly monitoring the weather. The itinerary may change based on what conditions are during the workshop.
Planning your shoots
• Scouting and evaluating conditions
• Composing an image to grab the viewer's attention
• Composing an image with a person in frame to show scale and tell a story
• Utilizing apps for more efficient planning
• Choosing the right lens and filters for the job
• How to shoot with a plan for editing
Capturing your image
• Histogram - how to read for perfectly exposed images
• Exposure control - how to use ISO, Aperture and Shutter Speed in different scenarios
• Bracketing, Perspective Blending and Focus Stacking
• Focusing at night to capture pin sharp stars and foreground
• Long Exposure - how to capture blue hour & Milky Way
• Stacking for Noise Reduction - how to shoot the proper frames to stack
Bringing the image to life
• Lightroom and Photoshop - learn our post-processing workflow
• Luminosity Masks
• Dodging and Burning
• Blue-hour Blends
• Star-stacking - how to edit starry night skies with the stacking technique
• Understanding layers and masks
• Finishing touches using clone stamp and removing distractions
• Creating Orton glows and painting with light
• Build Social Media Presence - how to maximize engagement
• How to quickly convert time-lapse stills into a short video
WHAT IS INCLUDED?

All Lodging Accommodations
We have reserved lodging for the duration of the workshop and each person will have their own designated room.
(There is also a budget friendly option with no lodging included)

All Photo Instruction
From the field to the computer, we will cover it all. We will teach you techniques on how to capture a better image and our unique work flow in Lightroom and Photoshop.

Portfolio Feedback
Personalized and honest feedback from a 1-on-1 session with both instructors. We will review your top images and give honest feedback on how to improve in camera shots and personalized editing tips.

Social Media Insights
Instagram and growing your social media has been a huge interest for many. We will be touching on the ever changing algorithm of Instagram and how to successfully grow your presence as a photographer in the world of social media.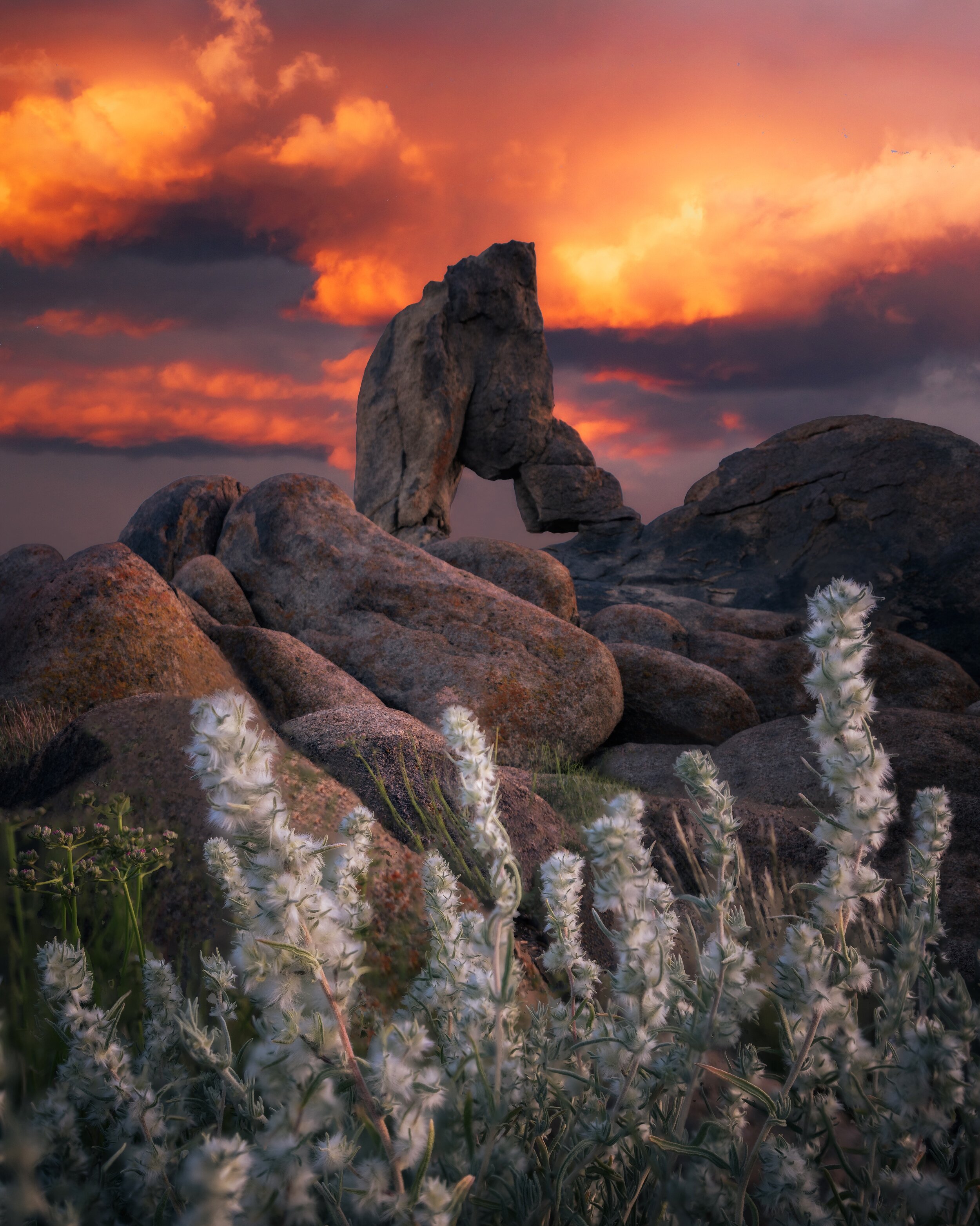 Our goal is to leave you feeling confident, motivated and passionate about your photography with a new set of ideas and perspective! We will teach simple and actionable techniques to scout out incredible compositions and the process of how to approach and execute unique photos in any environment or conditions. The classroom portion of this adventure will teach you a combination of Lightroom and Photoshop workflows and methods that will allow you to create some powerful images. We decided to keep the group small and intimate, thus allowing us to focus and give you much more access to the instructors and 1-on-1 attention. Both instructors will always be with the group providing thoughts and real time critique as the light changes from sunset to the enchanting night skies.
TESTIMONIALS
"I was lucky enough to attend Kenny and Ryan's first workshop on the Oregon Coast. They are freaking awesome guys!! I've been told before that you should be weary of meeting your heroes. I guess they can be much different in person than their Internet personalities lead you to believe, but these two were so COOL. So down to earth. Not fake, and genuinely in love with the art of photography. And that love really shows in their teaching. They want everybody to succeed. I almost cancelled my workshop and told them to gift it to someone who needs it because I thought I was "good enough" already. But my wife refused today let me pass up that opportunity, and I'm so grateful for that! Since the workshop my photography has been taken to a whole new level. Since then I've sold so many prints! I don't even have a website, I just post on social media for friends and family. Before the workshop I got likes and a comment here or there but was never asked for prints. I shoot for purely the love of it, I don't care to make money I just want my friends and family to enjoy the views I'm lucky enough to experience. Ryan and Kenny shoot purely for the love of it too, that's why they're so awesome to hang with. They want every artist to succeed and they have a great road map down that path. The experience was truly amazing. Oh! It was a two night workshop in which the marine layer never lifted, but they refused to let us leave without some Milky Way so they asked us all to stay another night and we got some outrageous milk!!! If you're on the fence about attending their workshop, get off the damn fence and get out under the stars with them! It's so very worth it!!!"
- Jason Browning
"I recently completed a six day workshop with Ryan and Kenny that included the Eastern Sierras and Death Valley.  This was my first in person photography workshop and it was phenomenal.  Not only were the locations great, but I feel I learned an awful lot, both in terms of how I think about and compose my images as well as new editing tips and techniques.  Regarding the latter, I particularly appreciated that Kenny and Ryan not only demonstrated their workflows, but also recorded the sessions so that the students would have them to review later.  That's super helpful.  Post course I find myself more jazzed than ever about my photography and feeling much more confident in my skills and ability to visualize, capture and edit great images.  I've already signed up for their Big Bend class next year.  Can't wait!"
- Bill Vollmer
"In May of 2019 I took the PNW Photography Workshop on the southern Oregon coast with Kenny and Ryan, and it was an amazing experience during which I learned new photography techniques and met some amazing people. They were excellent at both scouting locations before we arrived as well as making sure we had backup plans should weather inhibit our goals (which, a few of the nights, mother nature did not play along - but that was ok, we still got to shoot). During the time, we did some classroom learning during which Ryan and Kenny showed us their lightroom and photoshop workflow, as well as hiking and wandering the beaches (that they had scouted before we arrived so as to ensure we could maximize our time shooting) during sunset and the late night to shoot the milky way. Both Kenny and Ryan are very personable, polite, knowledgeable, and all around great guys to be around. In the end, the only thing I regretted was when it was over, having to go back home. It was such a blast and the people were so amazing that I could have seen myself staying for weeks! If you are considering a workshop with Kenny and Ryan, I recommend you do it - you are sure to have a blast and come away with new knowledge and techniques!"
- Jason Kudlo
"Attending Kenny and Ryan's workshop was such an amazing experience.  It took me from guessing and not quite getting the shots to being able to confidently sell my images. The one on one critique changed the way I see my work and post process my images. I went from capturing light harsh and contrasting to dreamy and otherworldly.  And on top of the learning and adventuring- they made it a very fun and comfortable environment.  I left that weekend with new friends, new skills and much more faith in my own abilities.  Thank you so much for helping me to fine tune my taste and develop into my style."
- Nichole Gaertner
"I attended the Oregon Coast and Astro Photography workshop in June 2019. I had just purchased my first camera with the help of both Ryan and Kenny, and within the first few hours of the workshop, I felt more confident. They each gave me individual attention, as I was the only beginner photographer in the group, and made me feel more comfortable. The workshop itself, was absolutely incredible. I saw places on the Oregon coast that I never would have found by myself. My milky way photographs looked like a professional had shot them. It was a magical experience and gave me the necessary skills to be able to continue shooting on my own. Each person I met on the course was so supportive and I have made long lasting friendships. I can't recommend Ryan and Kenny's workshops enough. They are incredible photographers and truly provide you with an amazing experience. I am already looking forward to my next workshop with them!"
- Jen G.
"Kenny and Ryan's workshop was the first I've ever attended so I really had no idea what to expect! I signed up because shooting at night has always been a struggle for me, and I wanted to have amazing milkyway shots like I'd seen so many times. Unfortunately the weather was not on our side as far as seeing stars, but it didn't even matter! They were able to help teach me the skills I needed to achieve focus at night, and how to stack the star shots together. The group was amazing. I can't say enough good things about the positive energy, and endless laughs. The workshop was literally the highlight of my summer. During the day we had classroom sessions while the light was harsh outside. I especially enjoyed learning how to do blue hour blends, which became the staple of some of my favorite summer/fall shots. I highly recommend their workshop if you're wanting to take your night photography to the next level. My confidence in my work has exploded since!"
- Tasha E.
"Kenny and Ryan are amazing! I was able to take my landscape photography to the next level thanks to them! I did a private workshop with them and it was worth every penny! Not only are they talented photographers, they are two of the most amazing human beings I've had the privilege of getting to know. You will not be disappointed with whatever adventure you take with these two! You will leave any experience with them feeling empowered and inspired in your craft!"
- Krystle D.
"One of the best decisions I made in 2020 was to sign up for a PhotoRoamers workshop. My goal for summer was to improve my skill set for astrophotography. Lucky for me, I was able to join the Oregon Coast June workshop with Kenny and Ryan. Having never attended a photography workshop before, I was a little nervous about what to expect. No need to worry as Kenny and Ryan were very welcoming, easy going, and made me feel comfortable on our adventurous weekend together. They both are professional, polite, and know their craft. We went to places on the coast that were absolutely magical and full of photographic potential. Each site was well scouted leaving us time to work on composition and technique, rather than location finding or logistics. Who knew how good the milky way is on the Oregon coast? PhotoRoamers did! These two helped me to better utilize my equipment and to elevate my editing skills. I believe their ability to teach technique and theory while encouraging my own creativity gave me the space to accelerate my learning. I came away from the weekend with confidence, new skills, and some amazing images. If you are thinking of taking a photography workshop I would definitely recommend PhotoRoamers, you will be so glad you did! I would definitely love to join them again!"
- Jen P.
"Huge Thank You to Ryan and Kenny for another great workshop. This was my second workshop with them and it was just as good as the first. Maybe even better since it was a private workshop, so I was able to be greedy and take up all their time for myself. One of the things I like about these two is that they are there to help guide me through my thought process of setting up compositions to camera settings was nice. The best part of that process was they didn't tell me what to do. They let me tell them what I was doing and why. Which allowed me to sometimes rethink and dial in a composition or setting. I was basically teaching myself without even knowing it. It's kinda like teaching someone how to fly fish. You never want to grab the rod from someone trying to learn how to cast and say "this is what you do watch me." Instead you let them work through their bad habits and become more familiar with the proper techniques in order for them to fine tune and refine their skills. I would highly recommend taking one of their workshops. They are so talented in the field and in the post processing of photography. Their passion for helping other artists become better is huge! Once again, thank you Ryan and Kenny. Hope to see you guys again soon."
- Dustin D.
"Not only did I learn so many new photography skills and slick editing tricks in Lightroom and Photoshop, but I made lifelong friends with a dream team of incredible photographers and instructors. These connections are priceless. So many friends and followers on IG noticed the difference in my photography after that workshop and I would definitely recommend one or more of their workshops - it'll be worth every penny!"
- Tom B.
"I joined the PhotoRoamers for a 5 day MasterClass in June of 2020 along the Oregon coast. I can say without any doubt that I learned a ton over the course of this workshop, and that it helped me bring my photography to the next level. Kenny and Ryan are excellent photographers, but more than that, they are passionate in their love of photography and it comes through in how they teach. Not only did I feel they were there to guide and support my work, but they were honest in their critiques in a helpful and genuine way. They were motivated to learn what we wanted to gain from the workshop, and tailored their approach to fit the skills we were wanting to learn from them. I really appreciated their approach to meeting me where I was at my skill level. Everything about this workshop was top notch. The environments they choose to shoot in are exceptional. Their guidance on developing your skills is excellent, honest, but non-intrusive and supportive. The accommodations were absolutely awesome! The guidance on creating a more "dialed in" post process for editing was so informative and has proven to be incredibly helpful. Overall, I couldn't recommend PhotoRoamers (Kenny and Ryan) enough. If you're considering these workshops, I highly recommend you take the chance. You will learn a ton from these wonderful photographers, and you will have a great time in the process. Just be ready for minimal sleep...these guys don't mess around when it comes to astrophotography, morning shoots, sunset and blue hour shooting. Mixed in with the classroom and work, you will need some serious sleep on the back end. Be ready to get to work, and I hope to see you out there!"
- Ryan M.
"I must admit, while driving to a remote campsite outside of Sedona to meet two guys I found on the internet for a photo workshop, I felt like I might have made an unhealthy decision. I could not have been more incorrect with my concerns. Upon my arrival, I met Kenny, Ryan and Sabu with whom I felt an immediate kinship. My workshop experience was far better than expected. This was a no frills, get back to nature and get down to photo business experience- exactly what I was looking for. We cooked together, foraged small rivers, hiked in darkness, climbed to rocky ledges, encountered fascinating desert creatures and replenished Ryan's Monster Energy supply, all for the opportunity to find and create perfect night landscape images. I had some experience in night photography prior to the workshop, but as Donald Rumsfeld once said, there are unknown unknowns, things we don't know we don't know. For me, there were many of these. Kenny and Ryan helped me learn how to look at a landscape and find an image. I learned about my equipment and how to get the most out of my camera and lenses. They encouraged me to think outside the box to create images that have meaning to me. There is much more to learn about LR and PS, but I feel like I have a much better understanding of how to use this software to create what I see in my mind's eye. If your goal is to have a productive photo workshop experience with instructors who are passionate about teaching how best to create images of the natural beauty of the night sky and the landscape, you can't find a better team to work with."
- Brad P.
WHAT IS NOT INCLUDED?

Transportation
Flights and car transportation are not included.

Meals/Snacks
Meals will often be on the go as we chase light, you will be responsible for your own food.

Travel Insurance
With any trip/adventure, it is recommended you have travel insurance, especially for medical emergencies.
Cost: $2,695
Deposit: $499 to reserve your spot
Space is limited and filling up quickly on a first come, first serve basis. With two photography instructors present for the duration of the workshop, you will have plenty of opportunity for 1-on-1 instruction to improve the skills you feel you need to work on!
Join Our Tribe and Invest in Your Passion!
SIGN UP!

* Please read the workshop F.A.Q. section to learn more about cancellation policies or if you have any other questions.
* * If this workshop has to be cancelled or postponed due to any COVID-19 related issues, you will have the option of a FULL REFUND or your deposit can be used for a future credit for any workshop.